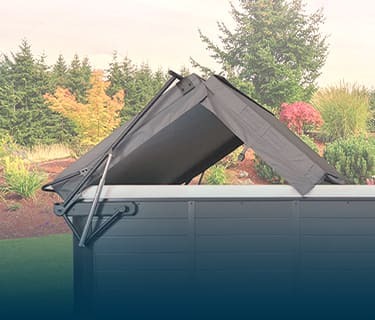 Convert-A-Lift Spa Covers
Automates select hot tub & swim spa lifters allowing the user to open the cover at the touch of a button.
Benefits of Owning a Convertalift Spa Cover
A Cover Lift For Any Spa Type You Own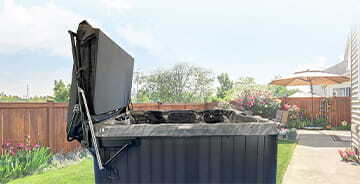 Hot Tubs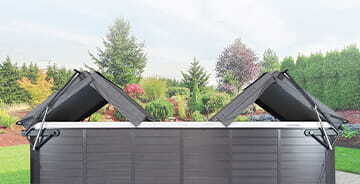 Swim Spas
Provides Convenience, Safety & Cost Savings
ADDED SAFETY
When opened it helps prevent unexpected closure due to wind without the need of locks that break if user forgets to disengage.
When closed it helps prevent unwanted entry that is far superior to the locks included with traditional covers that are rarely secured.
CLIMATE PROTECTED
ELECTRONIC LINEAR ACTUATORS include a high-quality powder coating that provides the equivalent protection of 304 stainless steel. These identical units have been tested for years in the harshest climate conditions of the marine industry and are still in current use today.
INTERNAL CONTROL BOX includes a waterproof rating of IP66 providing protection from high pressure water exposure from any direction. This is the highest rating of any non-submerged electronic component.
ATTACHMENT BRACKETS are constructed of powder coated aluminum to help prevent rusting or corrosion in the field.
TEMPERATURE PROTECTED
Will operate with full efficiency in temperatures between -4° F (-20° C) and 158° F (+70° C) though will operate slightly outside these parameters but at a slower speed.
EXTENDS LIFE OF YOUR COVER
ConvertaLift systems are overpowered to accommodate operation with heavy snow loads or waterlogged covers.
SMART DESIGN FEATURES
The internal control box has a fully sealed plastic interior with a convenient external button for opening or closing your cover without the need of the remote control.
An external quick disconnect allows user to open the cover in case of power failure.
ELECTRICAL POWER CHOICES
Converts 120V to 12 Volts andincludes an electrical cord that plugs into a standard GFCI Outlet. Or can be installed by a service technician to the primary power pac of most standard hot tubs & swim spas. Utilizes a very low amperage draw.
EASE OF INSTALLATION
Designed to be consumer friendly and transform select hot tub lifters within 45 minutes into fully automated ConvertaLift Systems.
WARRANTY
All component parts include a 100% warranty from date of delivery. Each unit comes with attached serial number and manufacturers build date.