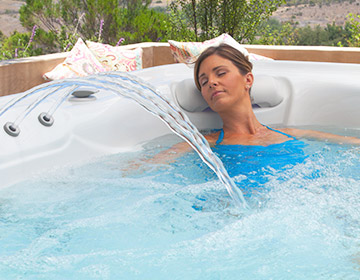 ACE® Salt Water System
Experience the best hot tub water with the ACE® Salt Water Cleaning System. Now available for Highlife NXT®, Highlife®, and Limelight® model hot tubs. View more about how an ACE Saltwater System can improve your hot tub ownership experience today!
Benefits of the ACE® Salt Water System:
Easy to Use
Simple Hot Tub Care
More Natural, Less Chemicals
Great Looking Water
Incredible Feeling Water
Clean and Fresh Smelling Water
Cleaning & Treating Hot Tub Water Differently
Typically hot tubs will require a similar regime of chemicals, like a pool, to ensure your hot tub water stays clean and fresh.
The ACE® Salt Water System cleans your hot tub water differently than traditional water care recommendations. Instead of adding chemicals to your water, the ACE® Salt Water System utilizes a patented diamond electrode to break apart water molecules to create an 'Active Oxygen' oxidizer. This 'Active Oxygen'