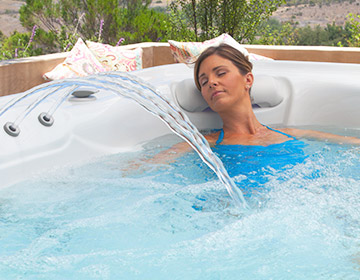 FreshWater™ Salt System
Experience the best hot tub water with the FreshWater™ Salt system. Now available for Highlife®, and Limelight® model hot tubs. View more about how an FreshWater™ Salt System can improve your hot tub ownership experience today!
Benefits of the Freshwater Salt System:
Easy to Use
Simple Hot Tub Care
More Natural, Less Chemicals
Great Looking Water
Incredible Feeling Water
Clean and Fresh Smelling Water
Cleaning & Treating Hot Tub Water Differently
Typically hot tubs will require a similar regime of chemicals, like a pool, to ensure your hot tub water stays clean and fresh.
The FreshWater™ cleans your hot tub water differently than traditional water care recommendations. Instead of adding chemicals to your water, the FreshWater™ Salt System utilizes a titanium cartridge to create chlorine from salt to sanitize the spa water. With only three cartridge changes, the water stays fresh for a full year, giving you the best spa water possible.