Stargazing Hot Tub Apps
We all love finding cool new ways to get the most out of our hot tubs. While relaxation, recreation, and physical recovery are at the forefront of our minds when we think of enjoying our spas – that isn't the only way we can use a hot tub.
Educational experiences might have been the last thing you were thinking of when you first made one of the best decisions of your life and purchased your beloved hot tub. Believe it or not, you and your family can enhance quality hot tub time with academic enjoyment thanks to stargazing apps!
Want to learn more about some of the best stargazing apps available for your smartphone? Sit back in your spa seat, turn down the lights, and relax while we review some of the best apps that will help you turn your nightly spa sessions into full planetarium experiences!
Stargazing Apps are fantastic tools that help you learn more about the night sky. They all provide the same primary function as your pocket guide to the stars! To do this, they use cool augmented reality tech that allows you to whip out your phone, point it up, and get a quick on-the-spot virtual tour of the sky above.
While they all have the same general purpose, that does not mean they are all the same. Developers work hard to set their products apart from others available on the app store market with fun features to help you get the most out of using them.
The fun quiz questions are some of our favorite features! We love challenging our friends and family to name the stars and constellations we see each night while enjoying a nightly hot tub soak. Some apps even let you know about upcoming astronomy events and the best ways to see them that will help you plan your next backyard hot tub stargazing party!
This article will check out 6 of our favorite stargazing apps, but there are much more available than these 6.
If you're curious about the other star watching apps on the market and how to find the best ones, we suggest checking out the app reviews before purchasing. Just as you can trust Seven Seas is the best pool and spa store near you based on our numerous 5-star recommendations from all of our customers' shared experiences on Google and Facebook.
The same is true for finding a high-quality app, reading user reviews will tell you how the app experience was for those users to know if the app is worth your time and money.
The free official NASA app, which you can download for iOS or Android, is an essential item for any at-home space adventurer. Although you can't use the software in the same way as others on this list for stargazing, this app will still help you get up close and personal with space in some incredible ways.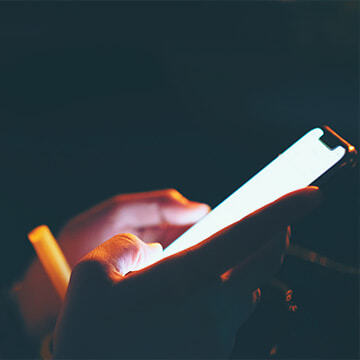 NASA App
Watch live NASA TV, browse the NASA picture gallery with new images being added all the time, and check out the on-demand video library with all sorts of videos from the agency. In addition, the app includes real-time video streams from the ISS High-Definition Earth Viewing experiment.
The app also informs you about NASA missions, launch plans, upcoming sightings, agency news, and NASA Tweets.
IOS: https://apps.apple.com/app/nasa-app/id334325516
Android: https://play.google.com/store/apps/details?id=gov.nasa
Solar Walk offers a fantastic 3D model of our solar system that brings the universe to your fingertips and allows you to interact with moons, satellites, comets, planets, and other objects in space any time you like. This app is beneficial for children since it incorporates video segments that illustrate various interplanetary ideas into its 3D space models. This one costs a little more at $3 for Android users and $8 for iOS users.
Solar Walk
IOS: https://apps.apple.com/au/app/solar-walk-3d-solar-system/id347546771
Android: https://play.google.com/store/apps/details?id=com.vitotechnology.SolarWalk

Star Walk 2, $3 for iOS and free for Android with in-app purchases, is a fantastic app that lets you explore the night sky with your phone's sensors and GPS. This app will help you identify stars, planets, comets, constellations, satellites, and even the ISS!
Star Walk 2
All you have to do is aim your phone at the stars. Star Walk Kids for iOS and Android is also available if you're looking at the stars with children. Star Walk Kids is also free for Android, while those using iOS must pay $3.
Not sure where to start? Star Walk 2 has a handy "Visible Tonight" feature that allows you to see all of the cosmic phenomena and heavenly sights visible for your location, as well as future ones! The What's New section will also keep you up-to-date on future occurrences. You can even choose dates and times from the astronomy calendar or from the clock-face icon to view the sky at different periods in time.
IOS: https://apps.apple.com/us/app/star-walk-2-night-sky-map/id892279069
Android: https://play.google.com/store/apps/details?id=com.vitotechnology.StarWalk2Free&hl=en_US
The Star Tracker app works on iOS (lite) and Android to show you the sun, moon, 88 constellations, and 8000+ visible stars, all in real-time. The app's 3D compass in AR mode works similarly to a mobile planetarium, helping you find the location of whatever astral site you seek!
Star Tracker
Star Tracker includes graphical features for the 12 zodiac signs and six prominent deep-sky objects to improve your constellation viewing experience.
There is a free and paid version of this app. The pro version is $3 and contains no advertising. In addition, Star Tracker Pro also includes a Time Machine option and night mode, along with a more robust listing of deep-sky objects for you to observe.
IOS: https://apps.apple.com/app/star-tracker-lite-live-sky-map/id780172278
Android: https://play.google.com/store/apps/details?id=com.PYOPYO.StarTracker
SkyView also harnesses the power of augmented reality to show you what's up above, and you can even keep track of your favorite constellations as they travel across the sky. Users appreciate that this app displays major stars and doesn't inundate you with other celestial bodies you can't see.
SkyView Lite
To start using Skyview, point your smartphone at the sky, and you're ready to go! You can discover stars, planets, constellations, galaxies, and even the International Space Station with ease.
Users can enjoy the integrated app feature called "Sky Path", to follow objects in space and see their precise locations at any date and time. Skyview provides a journey through time to see what the sky looked like any time in the past!
Available for iOS and Android. A free app with in-app purchases.
IOS: https://apps.apple.com/app/skyview-lite/id413936865
Android: https://play.google.com/store/apps/details?id=com.t11.skyviewfree
The SkySafari astronomy app, $3 on iOS and free on Android with in-app purchases, allows you to point your phone towards the sky to identify satellites, constellations, planets, and stars. The app also allows you to examine how the sky would have appeared thousands of years ago and what it will look like in the future.
SkySafari
You can enjoy watching celestial phenomena like approaching comets and simulated past meteor showers. If you can't visualize a constellation associated with an animal or mythological entity, SkySafari provides an excellent constellation illustration overlay function that makes them more apparent. The app also includes scientific, mythical, and historical information with every image.
If you're unsure where to begin, you can use "Tonight's Best" feature in the app to see which object in the sky you can see most clearly at the time.
IOS: https://apps.apple.com/us/app/skysafari/id1257281849
Android: https://play.google.com/store/apps/details?id=com.simulationcurriculum.skysafari5&hl=en_US
Sure, you could set up some chairs around a fire pit to enjoy time with family and friends while using your star-watching apps, but imagine enjoying a soothing hot water massage while watching the sky with loved ones in a hot tub!
Hot Tubs Are Made For Stargazing
A spa can do more than help you feel more relaxed while enjoying the slew of health benefits hot tubs are known to provide. Some of the best models have unique features available that will take your backyard planetarium experience to the next level.
Here are some of our favorite hot tub features that will make your stargazing evenings unforgettable.
First and foremost, a successful stargazing session relies entirely on your ability to see the stars at night best, and proper lighting is a crucial consideration to do so.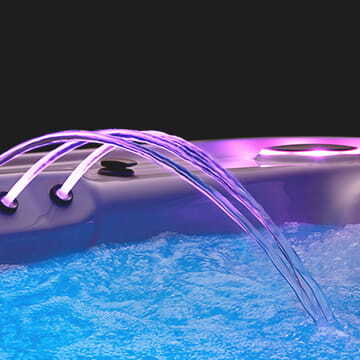 Hot Tub Lighting
The photoreactive nature of rhodopsin, a G-protein coupled receptor found in the rod cells of our eyes retinas, make it a significant factor that affects your nighttime vision. It takes about 20 to 40 minutes of darkness exposure for humans to start benefiting from rhodopsin, and it decays after just a few seconds of bright light exposure. After the rhodopsin is depleted, the rods in our eyes lose their elevated ability to see in the dark.
Want to enjoy the stars without sitting in the dark? Try setting your hot tub lighting to the darkest red possible; that's because deep red lights don't neutralize rhodopsin. Pro-tip: set your phone to night mode and turn the red light up to the max setting to best see the stars.
Here are some of our favorite hot tubs that will give you the ability to have a professional astronomer-lighted sky-watching experience.
Adjustable LED lights surround the Bullfrog M Series spas, providing an ideal ambiance for unwinding and star watching.
Bullfrog M Series Hot Tubs:
https://sevenseaspools.com/hot-tubs/bullfrog-spas/m-series/m9
The Hot Springs Spas Highlife® Collection is available with Luminescence® four-zone lighting systems. This feature allows you to cycle through numerous spa light colors to create an ideal star-watching experience.
Hot Spring Highlife Series Hot Tubs
https://sevenseaspools.com/hot-tubs/hot-spring/highlife-series/vanguard-spa
Caldera SpaGlo® Multi-Zone LED Lighting, with 12 Points-of-Interior Lights and 4 Corner Exterior Lights, allows you to create a fantastic backyard ambiance.
Caldera Utopia Spas
https://sevenseaspools.com/hot-tubs/caldera/niagara-spa
There's nothing like looking up at the sky and watching the stars while your body melts away in the warm water of a hot tub. When you're sitting around and having conversations with your friends and loved ones, it's great to have your head facing one another, but when it comes to stargazing you want to be able to look up as comfortably as possible.
Hot Tub Seating
If it's just you and one other, a good spa lounge seat or two is perfect for looking up while you soak! If you want to accommodate a big crew star watching at one time, the Bullfrog M is great for backyard astronomy parties because they provide adjustable headrests in every seat!
Here are some of our favorite hot tub models that best accommodate looking up to skywatch.
https://sevenseaspools.com/hot-tubs/hot-spring/highlife-series/triumph-spa
https://sevenseaspools.com/hot-tubs/bullfrog-spas/m-series/m8
https://sevenseaspools.com/hot-tubs/caldera/cantabria-spa
When you're wrapped up in the moment of star watching, the last thing you want to do is jump out of the water to fiddle with cumbersome hot tub controls to make a needed adjustment.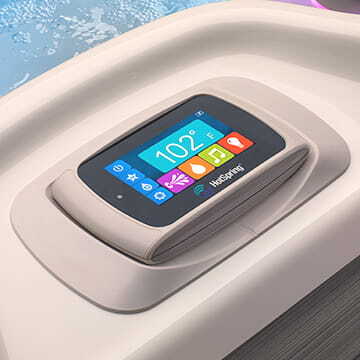 Touchscreen To Control The Hot Tub
Touchscreens allow you to maintain and enhance your spa experience whenever you need them. Whether you want to turn down the lights or turn up the water jet power, there is nothing like having the convenience of a touchscreen at your fingertips.
Some models even allow you to remove the touch screen and hold it from whatever seat you're sitting in, just like a remote control for your TV!
Here are some of our favorite touch screen equipped hot tubs:
https://sevenseaspools.com/hot-tubs/bullfrog-spas/m-series/m7
https://sevenseaspools.com/hot-tubs/caldera/florence-spa
https://sevenseaspools.com/hot-tubs/hot-spring/highlife-series/aria-spa

Music is the ultimate compliment to a star watching session, but only when it's a playlist of your favorite tunes, and the best luxury hot tubs are only made complete with Bluetooth-equipped sound system upgrades! With the power of Bluetooth, you can DJ your backyard planetarium party with all your favorite tunes. Just pair your phone with your spa's entertainment system and start streaming your playlist of choice from Apple Music, Spotify, Pandora, or any other music app you love!
The Perfect Soundtrack…Your Own.
Here are some of our favorite hot tubs that come with Bluetooth sound system upgrade options to help you perfect your backyard planetarium experience.
https://sevenseaspools.com/hot-tubs/bullfrog-spas/m-series/m8
https://sevenseaspools.com/hot-tubs/caldera/tahitian-spa
https://sevenseaspools.com/hot-tubs/hot-spring/highlife-series/sovereign-spa