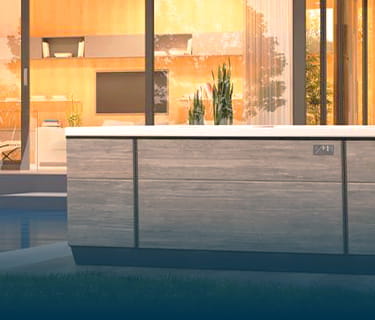 BullFrog Hot Tub
Enjoy two first-of-their-kind Adirondack-inspired premium therapy seats, the incredible double JetPak love seat, or any of several other comfortable and versatile seating options in your new M7 hot tub. With intuitive controls, simple water care, the renowned JetPak Therapy System, amazing aesthetics, and more, all in a mid-size footprint, your M7 by Bullfrog Spas will absolutely delight.
9 Adults
6 Jet Packs
453 Gallons
7'7" x 7'7" x 37"
Own This Hot Tub For As Little As $378.05/mo.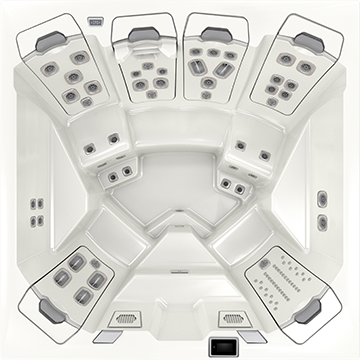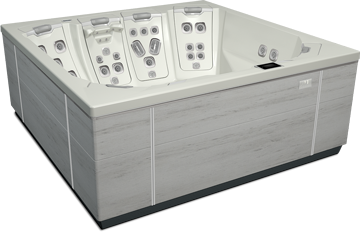 Design My M7

View in Your Backyard
Color Profiles
Cinder & Solitude

Timber & Oxidium

Orchard & Oxidium

Whitewash & Solitude

Timber & Solitude

Cinder & Stone

Whitewash & Stone
I'd like to talk
to someone about
getting a M7
Fill out this form and we will be in contact with you shortly about how you can begin your journey to enjoying an M7

EnduraFrame™
Support Structure

Shell Structure

Shell Surface

Equipment,
EternaWood™ Cabinet,
JetPak Therapy
System™

Patio Performance™
Spa Cover

Lighting, Audio,
Ozone System
Bullfrog Spa Reviews
Love it. Cost very little
Love it. Cost very little to operate
Great little hot tub
I love my spa, stays nice and hot without a problem even though it is only a 110V . While I sometimes wish it was a lot bigger, this round spa fits my small patio just perfectly.
Love my Bullfrog spa
From purchase, delivery/set-up to our constant use. We love it! Easy to use as well as to keep clean and has all you'll need in a spa. Thanks-you!
M7 Series Specs
| | |
| --- | --- |
| Standard Dimensions (W x L x H) | 7'-7" x 7'-7" x 37" |
| Metric Dimensions (W x L x H) | 2.31m x 2.31m x .94m |
| Total Seats | 9 |
| Bucket Style Seats | 4 |
| Lounge Style Seats | 2 |
| Elevated Seats | 3 |
| Water Capacity (to normal fill line) | 453 Gallons (1716 Liters) |
| Dry Weight (includes Cover) | 1000 lbs (454 kg) |
| Maximum Filled Weight (includes Cover) | 6029 lbs (2735 kg) |
| EnduraFrame Construction/Full-Foam/Molded Base | Standard |
| M Series Premium Patio Performance Spa Cover (w/ smart sensor technology) | Standard |
| M Series Spa Cover Lift | Standard |
| M Series Premium Spa Steps | Optional |
| M Series Premium Spa Cabinet | Standard |
| High-Performance 2-Speed Jet Pumps | 2 |
| Dedicated Circulation Pump | Standard |
| M Series Audio (rich surround sound, hidden in-shell speakers, sub-woofer, Bluetooth compatibility, track and volume adjustment through main control, volume adjustment through multi-function auxiliary controls) | Optional |
| M Series Adjustable Headrests | Standard |
| Simplicity™ Filtration System | Standard |
| Simplicity™ Flat Filter | Standard |
| EOS™ 03 Premium Water Care System | Standard |
| M Series Premium Interior LED Lighting | Standard |
| M Series Premium Control-activated Water Feature | Standard |
| M Series Premium Exterior Lighting | Standard |
| Exterior Drain w/ Footwell Drain Fitting | Standard |
| M Series JetPaks | 6, Standard |
| M Series Premium Jets | Standard |
| Hidden Water Return Fittings in JetPods | Standard |
| Foot, Wrist, Hip, Leg, Elevated Seat Therapy Jets | 18 |
| Maximum Jets Available | 270 |