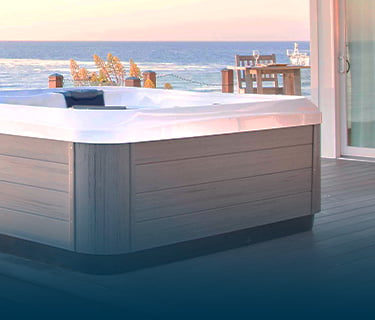 BullFrog Hot Tub
Bask in the warm water and enjoy a personalized hydromassage in the R6. This hot tub fits up to 6 adults comfortably and is designed for smaller spaces, without forfeiting space and relaxation.
8 Adults
3 Jet Packs
351 Gallons
7'4" x 6'8" x 34"
Own This Hot Tub For As Little As $190.78/mo.
I'd like to talk
to someone about
getting a R6
Fill out this form and we will be in contact with you shortly about how you can begin your journey to enjoying an R6

EnduraFrame™
Support Structure

Shell Surface

Equipment,
EternaWood™ Cabinet,
JetPak Therapy
System™

Patio Performance™
Spa Cover

Lighting, Audio,
Ozone System
Bullfrog Spa Reviews
Love it. Cost very little
Love it. Cost very little to operate
Great little hot tub
I love my spa, stays nice and hot without a problem even though it is only a 110V . While I sometimes wish it was a lot bigger, this round spa fits my small patio just perfectly.
Love my Bullfrog spa
From purchase, delivery/set-up to our constant use. We love it! Easy to use as well as to keep clean and has all you'll need in a spa. Thanks-you!
R6 Series Specs
Standard Dimensions (W x L x H)
7' 4" x 6' 8" x 34"
Metric Dimensions (W x L x H)
2.24m x 2.03m x .86m
Seating Capacity
7
Bucket Seats
7
Premium Bucket Seats
3
Lounger Seats
0
Cool Down / Child Seats
1
Water Capacity (to normal fill line)
351 Gallons (1329 Liters)
*Dry/Maximum Filled Weight (includes Cover)
575 lbs./4534 lbs. (261kg/2057kg)
EnduraFrame™ Const/Full-Foam/Molded Base
Standard
Premium Rigid Spa Cover (all Colors)
Standard
EternaWood™ Cabinet
Standard
High-Performance Industrial 56-Frame Pumps
One 4.8BHP 2-Speed
2 Pump Configuration
Optional
WellSpring™ Quiet Circulation Pump
Optional
R Series Audio: Rich sound, seat-surround speakers, sub-woofer, spa-side device storage, Bluetooth compatibility, remote control
Optional
Exterior Yard Speakers
N/A
EOS™ 03 Premium Water Care System: 2X the ozone output of WellSpring™ system, mixing chamber for enhanced water sanitization, carbon filter eliminates excess 03 gas
Optional
WellSpring™ High Output Ozone
Optional
Interior LED Light System: Center, Filter, Footwell
Standard
Top Rail LED Light System (cup holders & aux)
N/A
Lighted Water Feature
Standard
Exterior LED Lighting System (set of 4)
N/A
Dual Filter Elements w/safety feature
Standard
Exterior Drain w/ Footwell Drain Fitting
Standard
JetPaks w/ Detachable ComfortFit Pillows
3
JetPaks in Matte Black
Standard
JetPaks in Matching Acrylic
Optional
Rounded Corner Flush Mount Jets
Charcoal: Standard
Brushed Stainless: Optional
Automatic Filtration in JetPods
Standard
Shell, Foot, Wrist, Hip, Leg Jets
11
Maximum Jets Available
137/*138 (*WITH OPTIONAL SECOND PUMP UPGRADE)