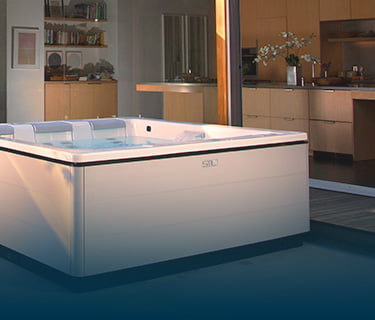 BullFrog Hot Tub
The absolute ideal modern hot tub for indoors, urban landscapes, couples, and singles, the STIL5 is a gorgeous and space-conscious modern spa. The open and flexible seating can be enjoyed in an upright or full lounging position. STIL5 offers 3 soothing JetPak massages for uncompromised therapy and a gorgeous aesthetic to fit your refined style.
View All 4 Person Spas
Shop Hot Tub Covers
4 Adults
3 Jet Packs
342 Gallons
5'7" x 6'10" x 31"
Own This Hot Tub For As Little As $319.75/mo.
I'd like to talk
to someone about
getting a STIL5
Fill out this form and we will be in contact with you shortly about how you can begin your journey to enjoying an STIL5
Bullfrog Spa Reviews
Love it. Cost very little
Love it. Cost very little to operate
Great little hot tub
I love my spa, stays nice and hot without a problem even though it is only a 110V . While I sometimes wish it was a lot bigger, this round spa fits my small patio just perfectly.
Love my Bullfrog spa
From purchase, delivery/set-up to our constant use. We love it! Easy to use as well as to keep clean and has all you'll need in a spa. Thanks-you!
STIL5 Series Specs
| | |
| --- | --- |
| Standard Dimensions (W x L x H) | 5' 7" x 6' 10" x 31" |
| Metric Dimensions (W x L x H) | 1.69m x 2.08m x .79m |
| Seating Capacity | 4 |
| Bucket Seats | 4 |
| Premium Bucket Seats | 2 |
| Lounger Seats | 2 |
| Cool Down / Child Seats | 0 |
| Water Capacity (to normal fill line) | 263 Gallons (996 Liters) |
| *Dry/Maximum Filled Weight (includes Cover) | 455 lbs./3310 lbs. (206kg/1456kg) |
| EnduraFrame Construction/Full-Foam/Molded Base | Standard |
| Premium Rigid Spa Cover (Sterling Color) | Standard |
| EternaWood™ Cabinet (Slate color) | Standard |
| High-Performance Industrial 56-Frame Pumps | One 4.8BHP 2-Speed |
| WellSpring™ Quiet Circulation Pump | Standard |
| Exterior Yard Facing Speakers | N/A |
| STIL™ Audio System | Optional |
| High Output Premium Ozone | Optional |
| STIL™ Touch Control Pad | Standard |
| AURA™ LED Light System | Standard |
| STIL™ Water Feature | Standard |
| Dual Filter Elements w/safety feature & Microban | Standard |
| Exterior Drain w/ Footwell Drain Fitting | Standard |
| STIL™ JetPaks in Snow Acrylic w/ Detachable STIL™ Pillows | 3 |
| Rounded Corner Flush Mount Jets | Brushed Stainless Standard |
| Automatic Filtration in JetPods | Standard |
| Shell, Foot, Wrist, Hip, Leg Jets | 3 |
| Maximum Jets Available | 171 |