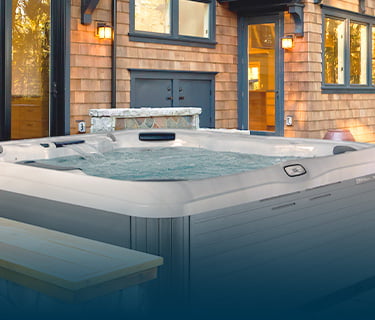 BullFrog Hot Tub
The X6R brings the spa experience to a new level with a circular design ideal for enjoying a night of fun and relaxation with family or friends. The X6R round spa is going to be one of your favorite investments. Sit back and reminisce as you stargaze in this fun and classicly styled spa environment.
6 Adults
21 Jets
291 Gallons
6'7" x 6'7" x 34"
Own This Hot Tub For As Little As $151.92/mo.
I'd like to talk
to someone about
getting a X6R
Fill out this form and we will be in contact with you shortly about how you can begin your journey to enjoying an X6R

EnduraFrame™
Support Structure

Shell Surface

Equipment,
EternaWood™ Cabinet,
JetPak Therapy
System™

Patio Performance™
Spa Cover

Lighting, Audio,
Ozone System
Bullfrog Spa Reviews
Love it. Cost very little
Love it. Cost very little to operate
Great little hot tub
I love my spa, stays nice and hot without a problem even though it is only a 110V . While I sometimes wish it was a lot bigger, this round spa fits my small patio just perfectly.
Love my Bullfrog spa
From purchase, delivery/set-up to our constant use. We love it! Easy to use as well as to keep clean and has all you'll need in a spa. Thanks-you!
X6R Series Specs
| | |
| --- | --- |
| Standard Dimensions (W x L x H) | 6' 7" x 6' 7" x 34"; |
| Metric Dimensions (W x L x H) | 2.01m x 2.01m x .86m |
| Seating Capacity | 5 |
| Water Capacity (to normal fill line) | 291 Gallons (1102 Liters) |
| *Dry/Maximum Filled Weight (includes Cover) | 503 lbs./3639 lbs. (228 kg/1651 kg) |
| High-Performance Industrial 56-Frame Pumps | One 2.5 HP/4.8 BHP/240V |
| Total Jets | 21 |
| EnduraFrame Const/Full-Foam/Molded Base | Standard |
| Premium Rigid Spa Cover | Available |
| Cover Lifter | Available |
| X Spa Steps | Available |
| EternaWood™ Cabinet | Standard |
| Durable 3-Layer Spa Shell | Standard |
| High Density Insulation | Standard |
| Stainless Therapy Jets | Standard |
| LED Backlit Therapy Jets | Available |
| LED Backlit Water Fall | N/A |
| X Comfort Pillows | Standard |
| Bluetooth Audio Package | Available |
| WellSpring Filtration Pump | N/A |
| EOS™ 03 Premium Water Care System: 2X the ozone output of WellSpring™ system, enhanced water sanitization, carbon filter eliminates excess 03 gas | Available |
| WellSpring Ozone Purifier | Available |
| Premium LED Mood Lighting | Standard |
| Premium Filter Element | Standard |
| Exterior Drain w/ Footwell Drain Fitting | Standard |
| 120V compatible 1.3 BHP 110V/15A Pump w/ cord | Optional |