Element Curve L Elite 50 Features & Comforts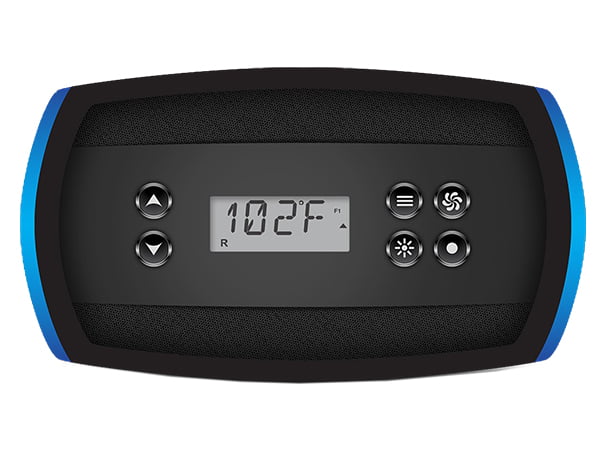 Digital Spa Control Panel with Color Display
Digital Hot Tub Controls that are waterproof and extremely durable . The user interface is easy to navigate allowing you to control all the major components of your Hot Tub with ease.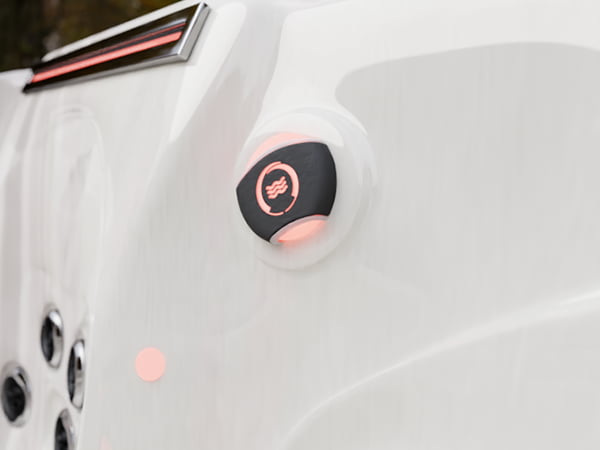 Extreme XL Water Diverters
Extreme XL Water Diverters . Divert the flow of water to specific seats in your Spa. LED lit (with and installed lighting package) and easy to both grip and turn with it's unique large shape.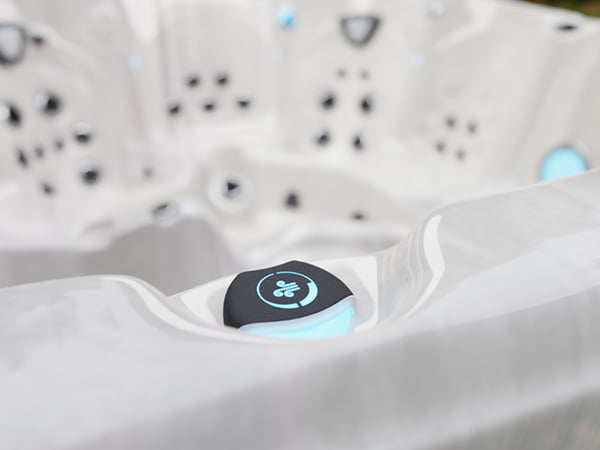 Air Controls
Allow air to mix with the water being supplied to your massage jets. Rotate the controls to customize the amout of air introduced into the spa jets. The result is a customized massage hydrotherapy experience.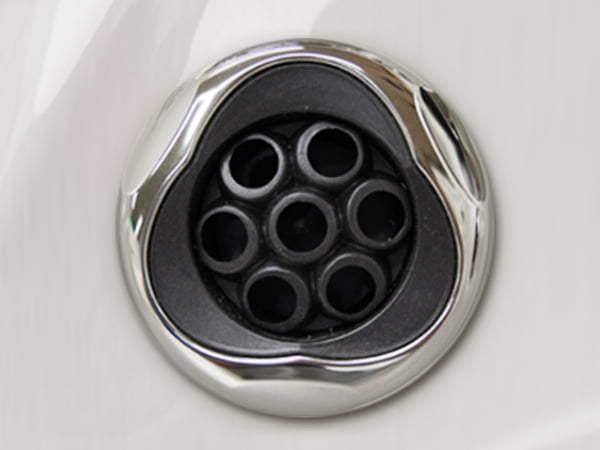 Trillium Stainless Steel Massage Jets
Our Luxury Trillium Jets. Luxury Trillium Jets are made to deliver the ultimate hydrotherapy experience.
These jets are designed to look incredible against the spa acrylic with smooth lines, multiple textures all wrapped within a stylish stainless steel housing.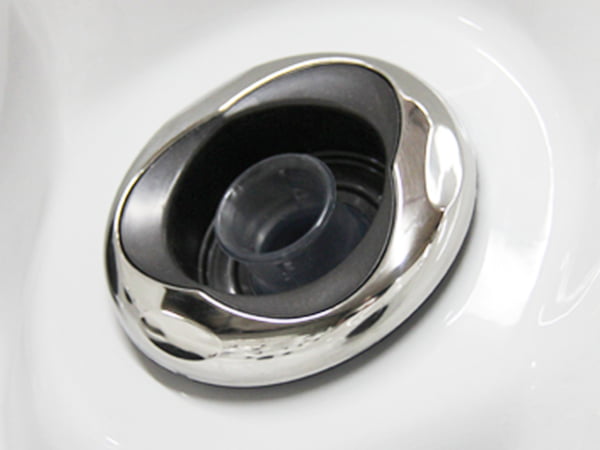 Volcano Jet with Dedicated Hand Control
Extremely powerful and therapeutic. The Coast Spas Volcano Jet is installed near the bottom of the Spa and points upward to the surface. This jet is so powerful that it comes standard with its very own diverter valve so that power can be diverted to adjust the intensity. When activated the Volcano Jet launches huge volumes of water toward the surface creating a "volcanic zone" of infinite massaging possibilities. Feet, legs, arms, calves and really any part of your body can enter this zone of hydrotherapy to be massaged. Extremely powerful and versatile, this feature is a must-have for anyone looking to capitalize on their Hot Tubs therapeutic benefits.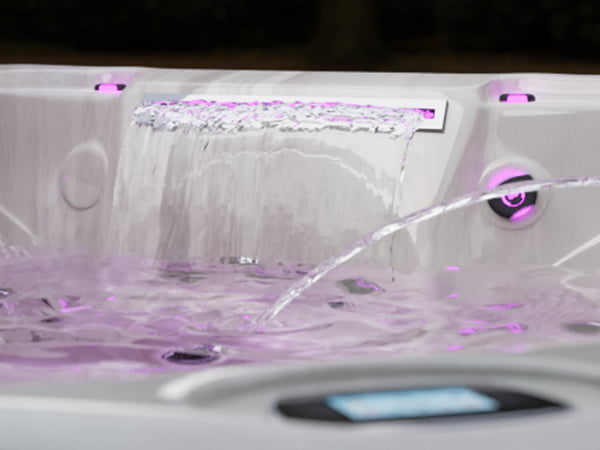 24" Fusion Waterfall
At one time waterfalls were just to add soothing sounds and a relaxing ambiance to your Spa. Coast Spas® changes that by putting you into the waterfall, giving you a feeling of pure relaxation and complete tranquility. Our largest water feature comes standard on nearly all of our Curve and Cascade Series Spas. This continuous blade of water measures a full two feet across and is fully lit with vibrant LED Lights*. Fully adjustable, the 24" waterblade can cascade into the middle of your Hot Tub or softly drop inches from its source (and everything in between). The Coast Spas exclusive 24" waterfall is the largest available on any Hot Tub. Enjoyment is guaranteed.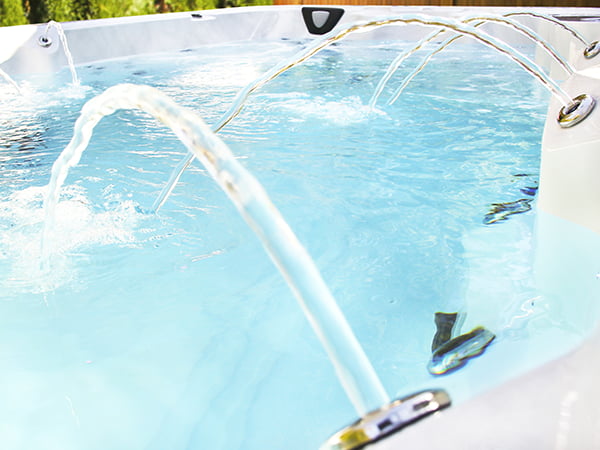 Streaming Water Ropes - Laminars
Provides the soothing sound of running water. Adds a stunning look to the profile of the Spa.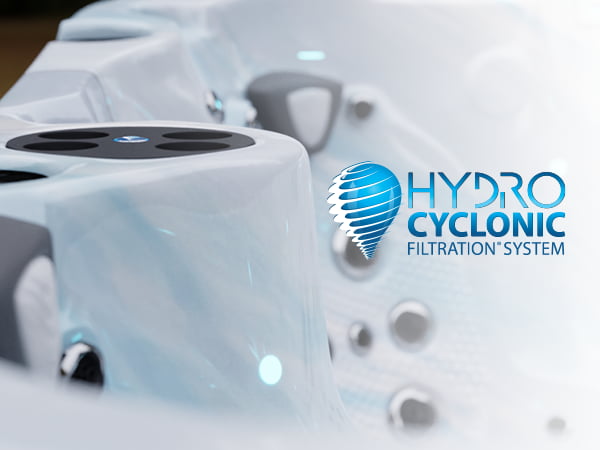 100 sq.ft. Hydro Cyclonic Filtration System
In North America it is law for any commercial establishment to have a closed pressurized filtration system on any public pool or Hot Tub. Not only is it more efficient and faster than a skim filtration system but it also removes the dirty filter canisters from the bathing area.
Without a pressurized system, once the water flow to the filter subsides, the debris that was caught in the filter is free to float back into the spa and re-contaminate the water. We like this idea about as much as sitting in the water with the dirty filters. So Coast Spas developed the Hydro Cyclonic Filtration System®. This is a commercial-grade, pressurized filtration system with the filter canister completely removed from the bathing area and coupled with an oversized skimmer.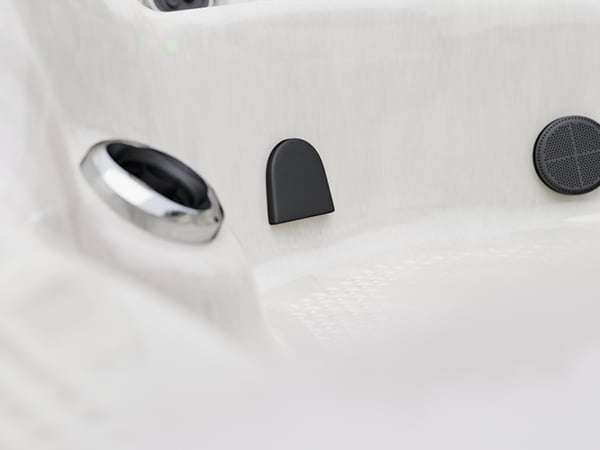 Self-Cleaning Sweeper Jet™
When you step into your Spa, any particles that are insoluble in water that are brought in with you (such as sand) will settle at the bottom of your Spa if uncaught by the filter. In all other Hot Tubs, once these particles have settled onto the bottom of the Spa you will have to share your Spa with them until either you drain and clean the Hot Tub, or purchase equipment that will pick them up. Unfortunately, sharing your Spa with these little particles means that you will have to endure an undesirable gritty texture when stepping in your Hot Tub and Spa vacuums are not always the cheapest accessories to purchase. Coast Spas saves you all the trouble and money with the Self-Cleaning Sweeper Jet. The Sweeper Jet is positioned near the spa floor with its fan-like nozzle aimed downwards, and is automatically activated on daily filtration cycles. The sweeper jet blows all the particles resting on the floor of your Spa up and into the moving water to then enter the filtration system.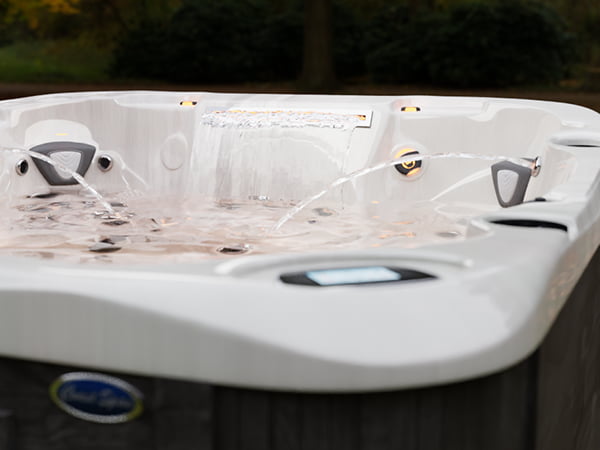 Raised Curve Back - Wind Protection and Privacy Wall
The raised back of our Curve and Cascade models shelter you from the wind as well as provide a private area in your Spa. The raised back also allows proper placement of our 24" inch waterfall so the water will cascade over your shoulders like a warm blanket.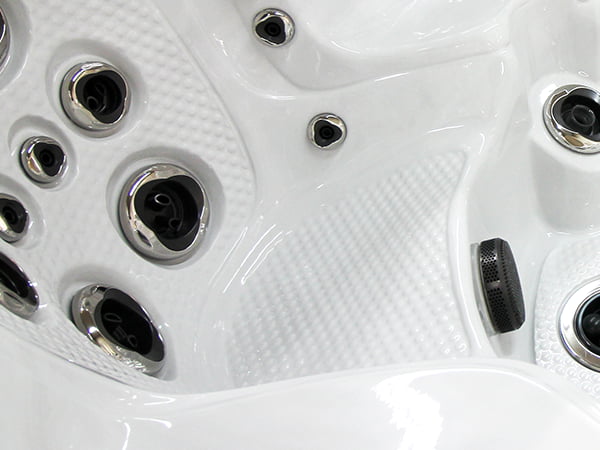 Shiatsu Massage Nodules
These tiny massage nodules are formed right into your spas acrylic allowing for water to move between your skin and the acrylic surface. The size and spacing of these ingenious nodules create a unique hydrotherapy experience that is more like resting on a cloud as our massage jets melt away the tension in your muscles.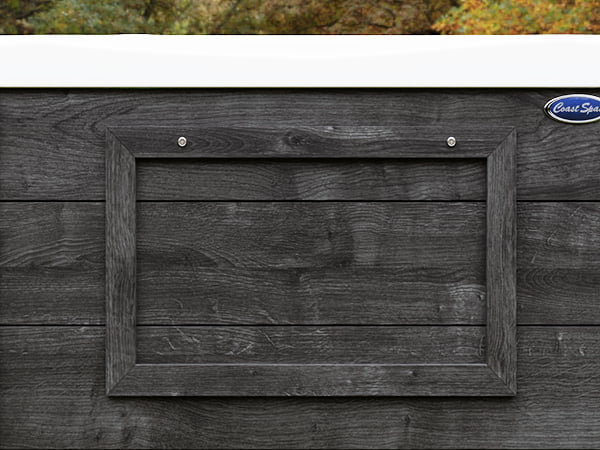 Quick-Access Equipment Door (secure dual-lock system)
Dual locks provide security to your spa's equipment. Coupled with an easy access entry door, you can access your equipment without having to remove screws or side panels making servicing and inspection a breeze.
Element Curve L Elite 50 Series Specs
Metric
Dims (cm)
212 x 212 x 101.5 (119.5 back)
Imperial
Dims (in)
83.5 x 83.5 x 40 (47 back)