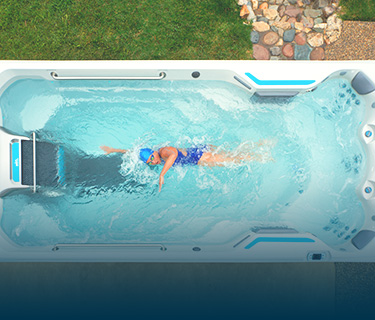 Swim Spas Hot Tub
Fully adjustable for every level – from Olympians to octogenarians – the smooth current lets you swim easily in place. The broad, deep current also adds resistance to a range of aquatic exercises for added core engagement.
Our Underwater Treadmill (available on the 58" model) lets you walk, jog or run in water's low-impact environment. You'll burn just as many calories, but without the pounding of dry-land activity. It's ideal for anyone who has (or wants to avoid!) joint pain or overuse injuries.
View All 3 Person Spas
Shop Hot Tub Covers
Own This Hot Tub For A Low Monthly Price
I'd like to talk
to someone about
getting a E500
Fill out this form and we will be in contact with you shortly about how you can begin your journey to enjoying an E500
E500 Series Specs
Dimensions
15' x 58" x 89"
Filtration
UltraViolet + Ozone
Luxury
Fountain • 2 illuminated waterfalls
Disclaimer: Read model specification document for more details.
E500 Downloads
Tech Documents & Guides