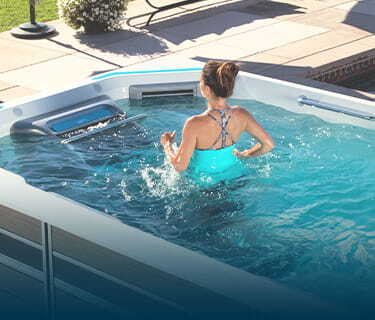 Swim Spas Hot Tub
Introducing your ultimate self-care companion. Featuring a breathtaking 94-inch wide active area, 5 inches wider than any other Swim Spa sold. Our E550 's expansive design provides you exceptional freedom to enjoy aquatic fitness and a swim experience like no other.
After treating your body to an uplifting water workout, soothe your tensions away with the E550's indulgent, muscle rejuvenating hydromassage jets. Enhance your health, strengthen your body, and create a new daily self-care routine that will challenge and excite you with the E550 by Swim Spa by Endless Pools.
View All 3 Person Spas
Shop Hot Tub Covers
Own This Hot Tub For A Low Monthly Price
I'd like to talk
to someone about
getting a E550
Fill out this form and we will be in contact with you shortly about how you can begin your journey to enjoying an E550
E550 Series Specs
Dimensions
15' L x 58" H x 94" W
Luxury
Additional Options • Optional Treadmill SwimDek® Surface Kits, Endless Pools Fit@Home® Wifi Kit & Mobile App, Gecko® In.Touch 2 & Mobile App, Pace Display, CoolZone®, Bluetooth®-Enabled Sound System, and 4-Tier Step
Exercise Equipment Options • Underwater Treadmill, Aquabike, Swim Tether, Resistance Bands, and Floor Mirror
Disclaimer: Read model specification document for more details.
E550 Downloads
Tech Documents & Guides