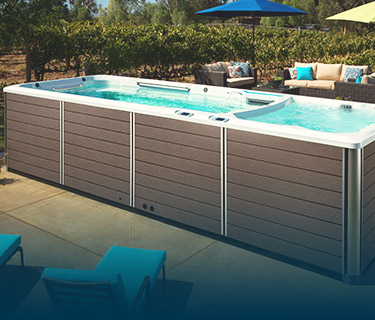 Swim Spas Hot Tub
The Fitness Area features grab rails for balance and to anchor any fitness gear option. At 15' long, the Fitness Area gives the whole family plenty of room for fun and activity. You'll love the SwimCross swim system, which gives you a quality jetted swim with our smooth, variable-speed current.
To easily keep your water crystal clear, the X2000 swim area combines Ultraviolet C (UVC) with eco-friendly CD Ozone. This dual water-purification system needs very little chlorine. On the spa side, CD Ozone and a dedicated filtration pump help keep water fresh at all times.
View All 4 Person Spas
Shop Hot Tub Covers
Own This Hot Tub For A Low Monthly Price
I'd like to talk
to someone about
getting a X2000
Fill out this form and we will be in contact with you shortly about how you can begin your journey to enjoying an X2000
X2000 Series Specs
Dimensions
20' x 58" x 89"
Filtration
UVC + CD Ozone (Swim Side), CD Ozone (Spa Side)
Heater Output
4,000 watt (per side)
Luxury
Lighting • 26 Multicolor LEDs, 5" Main Light, LED Illumination Bar
Fountain • 3 Illuminated waterfalls
Disclaimer: Read model specification document for more details.
X2000 Downloads
Tech Documents & Guides