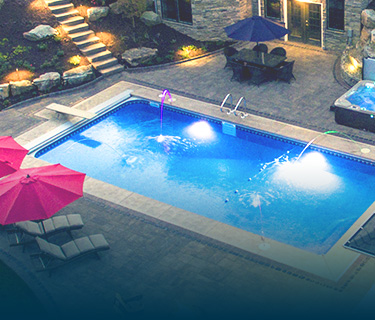 Inground Swimming Pool Installer
Unlimited hours of relaxation, entertaining and family bonding makes pool ownership one of the best investments you can make.
As the leading pool installers in Pittsburgh and Western Pennsylvania, we believe everyone deserves to have an in-ground pool in their backyard, an oasis to help relieve the distractions and stress of daily life. Whether you select an indoor or outdoor location, designing your customized pool is almost as fun as the feeling you get when you jump in for the first time. In fact, our friends frequently tell us that selecting and creating their customized pool was one of the most enjoyable decision-making processes they've ever experienced!
We take care of all the details including securing building permits, standard electrical wiring, up to 50 feet, as well as providing installation of a concrete perimeter and safety fencing surrounding your new pool. All of these extra services are included in your customized quote with no hidden fees.
When you're ready to invest in your family's summer, and all of those that follow, we're here to help.
Building Your Swimming Pool
Our primary goal is to make certain you're happy with your new in-ground swimming pool. Let your imagination run wild as we with work with you and your family to create the backyard oasis of your dreams. You can be assured your pool will incorporate the most reliable equipment as we only use products from Pentair, the leader in quality. We suggest rectangular pools, as they are comfortable and easily covered, however you have the option of choosing any shape, size and depth that you want. Seven Seas offers the best supplies and equipment to help you maintain your investment as well as special features that will make your in-ground pool truly unique.
You can also feel confident with your purchase knowing Seven Seas provides at-home service for all repairs that can't be performed at our retail locations.*
*Parts and equipment can be dropped off at the location closest to your home. All repair work will be performed at our Clarion, PA location.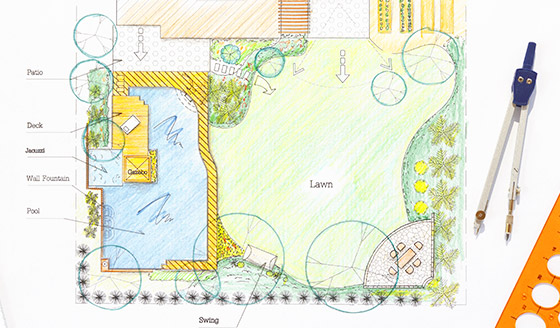 Pool Design
The designing stage is the time when you share with us how your dream oasis will look. We have selected the leading professional pool design software, Structure Studios, to create a 3D rendering of exactly how your pool will appear in your backyard (or home if you choose!) View the available pool design options for your new in-ground pool, or learn about benefits of our saltwater pools.
See Option for Designs
Pool Upgrades
Your pool should be as unique as you and your family. Whether you're getting ready for summer fun in the sun, wanting to turn your backyard into a haven of peace and tranquility or a little bit of both, we've got what you need. See all of the pool upgrades that can personalize your in-ground pool.
Personalize Your Pool
Pool Maintenance
Pool ownership is great, only so long as you can spend time enjoying it. Helping you protect your investment is as important to us as helping your dream of owning a pool become reality. We provide the best parts and supplies to ensure maintaining your pool will be as easy as possible. Find out how we can help with your pool maintenance.
See Maintenance Schedules
Interested in Financing Your Pool?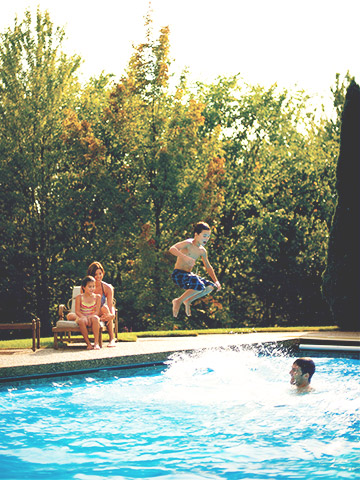 Pool Installation: What To Expect
The process of building your new in-ground pool begins when you visit one of our showrooms, contact us online or simply call us at 1-888-317-SEAS. Ron Perkins, owner of Seven Seas, will visit your home personally, incorporating your design ideas and the information from the site consultation to prepare a personalized proposal. This all-inclusive quote will be honored for thirty days, plenty of time to help you secure financing or answer any further questions.
You'll be swimming in your new pool in no time with our Dig to Swim Guarantee*! Once you've selected and designed your customized in-ground pool, we guarantee that within three weeks from the time we begin construction, you will be able to dive in and enjoy! Yes, that's right, providing the weather cooperates, Seven Seas can have your new in-ground pool installed in less than three weeks.*
Upon the successful completion of your new in-ground pool, you will have the opportunity to attend Pool School. We will teach you how to properly manage and dispense pool chemicals, backwash your filter, correct usage of your pool vacuum and provide you with a free computerized water analysis that tests the chemistry of your pool.
As an extra benefit, we also enable all of our valued clients the ability to utilize our online service scheduler, the most convenient way to schedule Seven Seas opening or closing your pool.
*Please note that this guarantee is weather permitting, meaning conditions must be ideal. For information on "ideal" conditions and stipulations regarding this guarantee please contact us.
Need Service Help? Schedule With Us Now.