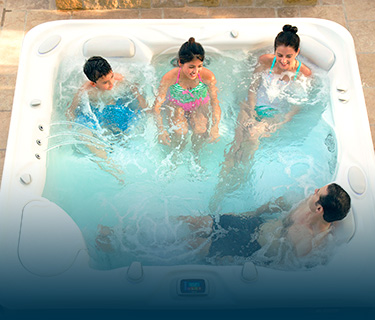 Highlife Series Hot Tub
Featuring 43 powerful jets at its heart, the Hot Spring Envoy provides powerful performance that leads to soothing, blissful relaxation. With seating for 5, advanced Tri-X® filtration for cleaner water and Wavemaster® continuous duty jet pumps, spending time in your Envoy will help you feel your best.
View All 5 Person Spas
Shop Hot Tub Covers
5 Adults
43 Jets
390 Gallons
7'9" x 7'7" x 38"
Own This Hot Tub For As Little As $300.32/mo.
Envoy Hot Tub Style Selector
Select A Cabinet
Select a Shell
I'd like to talk
to someone about
getting a Envoy
Fill out this form and we will be in contact with you shortly about how you can begin your journey to enjoying an Envoy
Envoy Series Specs
Dimensions
7'9" x 7'7" x 38"
Weight
830 lbs./375 kg • 4,960 lbs./2,250 kg
Filtration
325 sq. ft., top loading Tri-X® filters; 100% no-bypass filtration
Heater Output
No-Fault®, 4000w/230v
Circulation Pump
SilentFlo 5000® for quiet continuous filtration
Jet Pumps
Pump 1 • Wavemaster® 9000
One-speed 2.5 HP, continuous duty 5.2 HP, breakdown torque
Pump 2 • Wavemaster® 8200
Two-speed 2.0 HP, continuous duty 4.0 HP, breakdown torque
Luxury
Lighting • Luminescence® multi-color four-zone
Fountain • BellaFontana® with 3 illuminated arcs of water
Entertainment • Wireless Sound System
Water Care System
FreshWater™ Salt System Ready
Disclaimer: G.F.C.I. protected sub-panel required in 230v mode. Export models available in 230v, 50Hz, 1500w heater. Some units require a dedicated circuit supplied to the unit at all times. Electrical requirements will vary outside the U.S. Read model specification document for more details.
Envoy Downloads
Owner's Manuals
Tech Documents & Guides